Feb. 10th KITV Randy DeVol returns to Hawaii.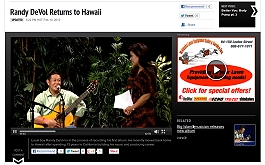 Wednesday, Feb. 6th KGMB Morning Sunrise Show Randy will be performing two segmants one at 7:50am, and a second at 8:50am on Hawaii News Now. Each performance will include a song and a short interview.

The show aired and here are the two segments:

Randy DeVol, a native of Hawaii and musically educated in LA, has just moved back to the islands with his unique style of contemporary jazz.
Randy recently performed on Kimo Kahoano's morning radio show.